First topic message reminder :
Can't Buy Me Love - 公主嫁到, Charmaine Sheh, Linda Chung, Fala Chen, Susanna Kwan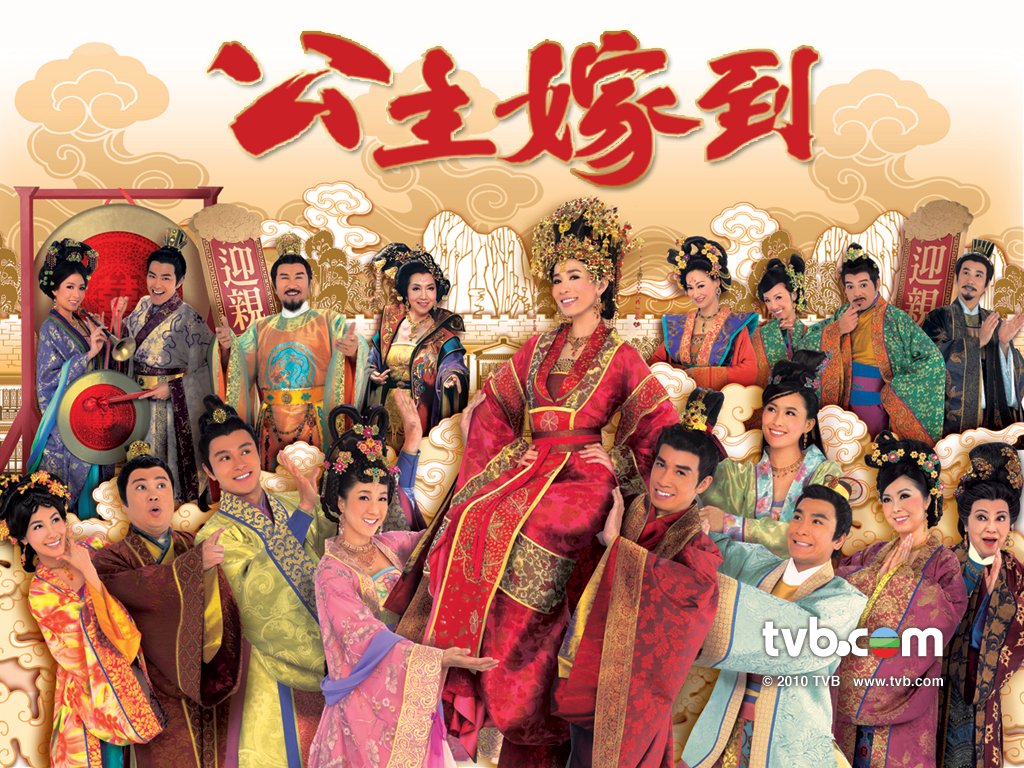 Details
* Title: 公主嫁到
* Cantonese/Mandarin title: Gung Zyu Ga Dou / Gong Zhu Jia Dao
* English title: Can't Buy Me Love
* Genre: Period
* Episodes: 30
* Broadcast network: TVB
* Broadcast period: August 23, 2010-
* Air time: Monday to Friday
Synopsis
Time: 12:30
Place: Tseung Kwan O TVB City Ancient Street in front of Shaolin Temple
- 30 episodes long
- The five princesses will be Sharon Chan, Tracy Ip, Charmaine Sheh, Yoyo Chen, and Charmaine Li. Charmaine will be bullied by the other four.
- The five prince consorts will be Edwin Siu, Matthew Ko, Moses Chan, Eric Li, and Cheung Wing Hong.
- Louis Yuen (Kam Do Fuk/金多福), Moses (Kam Do Luk/金多祿), and Raymond Wong (Kam Do Sau/金多壽) will play brothers.
- Louis thinks he's great, but he is actually useless. Moses is average-looking and not eloquent. Raymond is good at crafts, but avoids fighting.
- Susanna Kwan is the head of household of the Kam family. Her son will be Raymond.
- The Kam family is a family of goldsmiths.
- Lee Heung Kam is Susanna's mother-in-law, and she will be serious, but nothing she says is true.
- Kenneth Ma's character will be friends with Moses. He is a fair and just royal designated matchmaker (金斧、金稱、公平、公正、天子授命的官媒).
- Fala Chen will play a maid of Charmaine who follows Charmaine into the Kam household after her marriage. She will be a tomboy.
- Fala's character (Szeto Ngan Ping/司徒銀萍) will be a fighter girl who will be like Charmaine's bodyguard. She will beat Moses when he angers Charmaine.
- Linda's character will at first be a village girl. Then, she will by hired by Raymond as a maid, and she eventually becomes a princess. She will be a strong girl who is easily satisfied.
- Selena Li will be Louis' wife.
- Susan Tse will be a kindhearted mother.
- Elaine Yiu will be a courtesan who is Moses' "dream lover", and he will discuss his troubles with her.
- Lee Kwok Lun & Mary Hon will be a shrewd and cheapskate couple.
Cast
* Moses Chan
* Kenneth Ma
* Charmaine Sheh
* Linda Chung
* Fala Chen
* Selena Li
* Elaine Yiu
* Sharon Chan
* Edwin Siu
* Lee Heung Kam
* Susan Tse
* Louis Yuen
* Susanna Kwan
* Raymond Wong
* Kara Hui
Production Credits
* Producer: Mui Siu Ching